The Big COC Podcast – Episode Six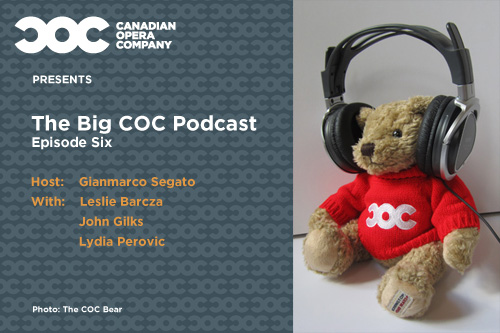 For Episode 6, the "All-Blogger Edition", we welcome back John Gilks and Leslie Barcza, and for the first time, Lydia Perovic. Hosting once again is the COC's Adult Programs Manager, Gianmarco Segato.
To mark the passing of composer Hans Werner Henze, we discuss the current state and future of contemporary opera in Europe, the U.K. and North America. Then, what's with all the booing? We look at David Alden's new staging of Un ballo in maschera at the Met. Lydia plugs her new opera-based novel and we chat with Nina Draganic, Director of Programming for the COC's Free Concert Series who highlights some special upcoming November and December concerts. Finally, we re-visit Catherine Clément's seminal book, Opera: the undoing of women, inspired by a recent article about Australian Opera's Salome/Lucia/Butterfly season and our own spring duo of Lucia di Lamermoor and Salome.
Are you out there listening? Let us know by sending us your ideas/comments on Facebook, Twitter or by e-mail (community@coc.ca).